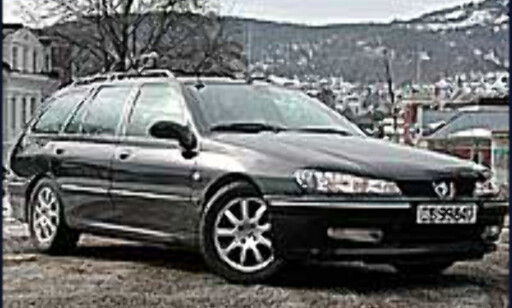 [Ugjyldig objekt (NAV)]
Det finnes ingen snarveier til sportslighet. Men snarveier har Peugeot forsøkt å gå da de bestemte seg for å sette 406 Sport på gata.
For navnet Sport henleder mer på utstyr enn virkelig sportslighet.
Sport som markedsføring
I sportsutførelse har Peugeot 406 fått dekk i dimensjonen 205/55 R 16, lettmetallfelger og forkrommet eksoshale. På innsiden er den pyntet opp med sportsseter i delskinn, skinntrukket ratt og girkule, samt en kromring rundt instrumentene. I tillegg har bilen spesielle innlegg på dashbordet og på dørene, alt lakkert i bilens farge.
Ligg unna senking
Vår bil var i tillegg senket. Dette er ikke standard på 406 Sport, og vår klare anbefaling er at du ligger unna. Ved kraftige rattutslag gnager nemlig forhjulet på innerskjermen. Irriterende når du skal manøvrere i byen – og helt sikkert ikke hyggelig verken for dekket eller for skjermen.
To motorer, vi hadde den største
Peugeot 406 Sport kan leveres med to ulike motorer. En toliter med 133 hestekrefter, og en 2,2-liter med 160 hestekrefter. Sistnevnte satt under panseret i vår bil – trass i at vi ved flere anledninger undret oss hvor alle hestene var blitt av. Effekten kanaliseres til drivhjulene via en fem-trinns girkasse.
Vi hadde forventninger til 406 Sport, spesielt med tanke på at Peugeot har hatt tradisjon for å levere sportslige familieracere. Les hvorfor vi ble skuffet i kapittelet Motor og kjøreegenskaper.
Lik Dinside Motor på Facebook